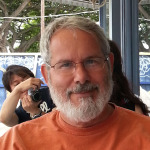 Welcome to Jim Johnson's Astronomy. I invite you to embark upon an astronomical journey with me as I explore the world of visual and photographic astronomy.
The Constellations Project
This is the centerpiece of Jim Johnson's Astronomy. It starts with an AstroLog post that covers the basics of each constellation visible from the northern hemisphere. The next layer of knowledge is the monthly edition of Scope Out Next Month, which names the constellations that are most easily viewed at nightfall during that particular month. And finally there topics written at the novice to intermediate level that teach the basics of how to find constellations, and how constellations move through the sky as the Earth rotates about its axis in the course of a day, and as the Earth orbits the Sun in the course of a year. Read more about The Constellations Project.
| | |
| --- | --- |
| Scope Out Next Month | What's Jim doing now? |
| | |
| --- | --- |
| Articles | |
| | |
| --- | --- |
| AstroKnowledge | |
Let's stay in touch!I wrote Finding Barnard's Star as a result of a reader request that I image the star and write about it. I particularly enjoyed the interactive nature of this project, and would like to do similar projects in the future. There are several options for us to communicate whether you merely want follow my ramblings, or you wish to be a more active participant. I announce the monthly publication of Scope Out Next month by email, and email exchanges are great when the communication is not intended for a wider audience. I post frequently on Facebook, so that is a good way to keep up with what I have been up to and what I am following. And finally, readers can post comments to the articles that I write, and can register to with the Web site to receive notice of new postings. I look forward to your questions, requests, and comments. And by all means, please drop me a line to let me know about even your most casual observing sessions.Email: jim@jrjohnson.net
Facebook: Jim Johnson
Register: Sign up for notifications of new posts.
© James R. Johnson, 2015.